Call me crazy, but I decide to do the Scrappy Swoon Quilt Along.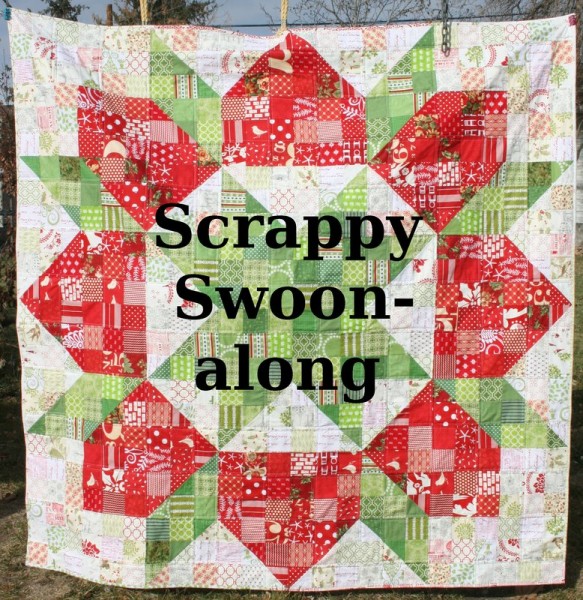 Who's with me???
So we have to pick out colors and fabrics. Lots of them. As I said before, this is a scrap busting project. So I looked at what I have a lot of in colors and fabrics. Pinks, browns, reds, lots of random brights, some aqua/green colors. I played with color options and decided on red and aqua. I discovered I have tons of red choices, enough aquas, and definitely in need of more whites. My whites and white prints are in bad shape. I got out all I have, and I will need to buy a few fat quarters to make it work. (I bought 3 additional white prints, and three more aqua-then I found a few more of each when I dug a little more!)
So here are my choices:
I also discovered that I buy a lot of DOTS!
Very pretty I think. Now I have to press the fabrics and begin cutting squares. Okay, did that and here they are all cut up.
This is how far along we are supposed to be...Clearly, I am way behind already!
There are several people uploading photos on there, and the color choices are really great. I am always impressed with the way a lot of people seem to be able to pull colors together that I would never try.
From the Hopeful Homemaker:
FABRIC REQUIREMENTS AND CUTTING:
For your background fabrics, you'll need 42 – 3 7/8 inch squares and 192 – 3.5 inch squares
For your primary color (the center star color) you'll need 36 – 3 7/8 inch squares and 132 – 3.5 inch squares
For your secondary color (the outer ring) you'll need 30 – 3 7/8 inch squares and 168 – 3.5 inch squares
I actually cut my 3 7/8 inch squares 4 inches instead, and will trim them down. That is what really works best for me. I get a more accurate half square triangle. So if you are going on this little journey with me, you can try that if you want.
Let me know how you are doing it and what colors you are choosing.